Many people were contemplating Dry January, but when the new lockdown restrictions came into place at the start of the month, many decided it was not the right time. However, for those that went the whole month without breaking, Congratulations! Many believe having a whole month alcohol free is not only good for your health but for your bank balance as well.
A recent study from Golf Travel Centre discussed data obtained from the Deltic Night Index which revealed on average an individual spends £68.68 on a night out with no lockdown restrictions. With 58% of the respondents highlighting that they would go out at least once a week, this means that if you participated in a 30-day dry month you would save around £343. It might be worth that dry month after all this year!
What better motivator to have a dry month than at the end of the month saving £343! We have put together some ideas of what you could spend that money on:
TECTECTEC VPRO500 Golf Rangefinder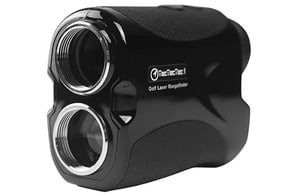 Range finders have become one of the most sought-after gadgets in the last 10 years. Arguably one of the most valuable pieces of equipment a golfer can purchase to help improve their game. As a golfer, you know the importance of needing to know your yardage and don't want to leave yourself guessing. This VPRO500 is one of the most cost-effective rangefinders on the market. It has angle compensation, making sure you get accurate measurements even when your target is uphill or downhill. With true yardage backing you up, you will be able to make more informed decisions about how to play the ball or which club to go for.
For a full range of rangefinders check out American Golf's range with many options available with your £343 dry month savings
An Overnight Stay at Tom Kerridge's The Hand and Flowers Cottages
Now, the main reason to take a room at The Hand and Flowers Cottage is to go next door and visit the Hand and Flowers Restaurant. This Two Star Michelin Restaurant may require an extra dry month, but boy will it be worth it. Cottage rooms starting from £240, why not treat yourself and with over a 6-month waiting list we are optimistic that after the summer you will be able to enjoy a night away.
Booking details can be found on The Hand and Flowers Website
Bushnell Wingman GPS Speaker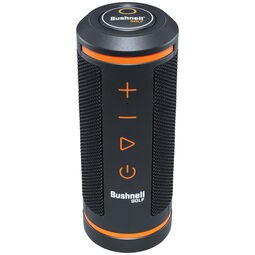 The Bushnell Wingman is powered by the FREE Bushnell Golf app that, after pairing, will give you audible GPS distances during your round. Extra features of the mobile app include score tracking, GPS distances, Tee time and even 3D flyovers. With the added bonus of being able to listen to your favourite tunes at home or on the course this would be a great gift to yourself.
Purchase at American Golf for £149
Traquair Castle House
Another option for when the world starts to return to something more normal is a luxurious stay in a Scottish Castle. Why not Pick Traquair Castle House near Edinburgh. Not only can you enjoy a fabulous night away but why not take the opportunity to visit one of the PlayMoreGolf Partner Courses nearby, with options such as Macdonald Cardrona Golf Course and Peebles Golf Club both within a 10 mile drive.
Stay from £220 per room, per night with breakfast included.
PuttOUT Delux Putting Mat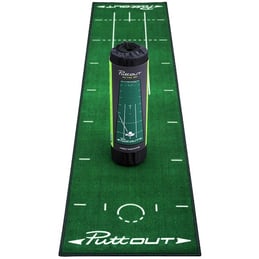 Practise makes perfect, why not invest some of that hard earned money and buy this highly durable PuttOUT Deluxe putting mat. This nylon mat has heavy duty rubber backing that ensures you can practise your putting anytime and anywhere. The mat has a stimpmeter reading of 10, to replicate a medium to fast paced green, with alignment lines and foot markers from 6 foot out.
Purchase from American Golf for £69.99
PlayMoreGolf Membership
The final option would be to renew/ purchase a flexible Golf Membership at one of our 250 partner clubs. With prices starting from £280 why not enjoy your well-earned money and invest in your golf membership through PlayMoreGolf.
Why not click here to explore our partner clubs near you, or call our sales team on 0330 555 6555.