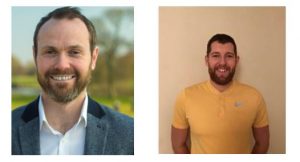 PlayMoreGolf Founders Jamie Carroll and Marcus Weatherburn discuss the launch of PlayMoreGolf, how it works and why a flexible golf membership is more relevant today than ever before…
How did you come up with the idea of PlayMoreGolf?
Jamie: It certainly didn't come to us overnight. PlayMoreGolf evolved from several learning experiences dating back to 2010, which is when we launched an online flexible golf membership with De Vere Group. Across a 4-year period we sold 18,000 flexible memberships across 11 different golf properties. When the De Vere business was split up and sold in 2014, I went to work for QHotels who had purchased some of the De Vere properties. Realising the potential for expansion of a flexible golf membership and, with the support of several investors, we were able to launch PlayMoreGolf in January 2015.
Marcus: My first experience of flexible memberships was when I worked for the De Vere Group at one of their golf properties in The Midlands. We went from 0 flexible members on day 1, to around 400 flexible members within 4 years of launching the De Vere Club – a fantastic result for a relatively small golf club. Interestingly, 8/10 enquiries we received were for flexible memberships; which just shows the opportunity for a new golf club. There are plenty of golfers out there – they just want a membership category that suits their needs and offers them value for money.
Why do you think a flexible membership is more relevant and useful today than ever before?
Jamie: As anyone in the industry knows, golf membership uptake has been in decline for some time. And the reasons for this are certainly multifaceted. Research shows that some people cite cost of traditional membership as a reason for reduced uptake, and in one survey I've come across, half of golfers notice a lack of flexibility in the game and experience the ways clubs are working as 'old fashioned', both of which are barriers to joining. PlayMoreGolf addresses and resolves both of these issues, making it more relevant than ever before.
Marcus: Another critical reason flexible golf memberships are so useful now is because the audience is organically evolving. Millennials are now in their 30s with their own careers, financial obligations and families. Their expectations and circumstances are bound to be different from your average 70-year-old seasoned golfer. In fact, in 2014 it was reported that he average age of a regular golfer in the UK rose 15 years, from 48 to 63, in a mere five-year window. It's important we don't ignore this fact and that we help golf clubs to respond to this appropriately and in a way that benefits everyone. And that's why we are pleased to report that the average PlayMoreGolf member is on average 17 years younger than a traditional member.
But why golf? What is it that you enjoy so much about the game?
Jamie: Myself and the sport go way back. I started playing when I was just 14 and don't mind saying I got quite good at one point! I even played county golf for Worcestershire at one point. As an adult I began working in the industry and have worked at golf clubs in memberships sales ever since. I grew up playing with my old man and it's just a fantastic leisure activity for families, colleagues, friends and individuals. I don't mind adding in here that I have a handicap of 6 – I'm pretty proud of that!
Marcus: I originally started playing golf with my Dad on a links course in Cumbria. Because of the handicap system, I could go out and have a genuine game of golf against somebody 25 years older than me. It was great to have that competitive element with a family member! I think it's fantastic that people of all ages can enjoy golf. It's one of the few sports I can think of where 3 generations can play together and all enjoy it.
Jamie: And just to add in here, it's also great to see the dedication and commitment demonstrated by the golf clubs and the staff and volunteers who keep those clubs going. That in itself has a very inclusive, welcoming feel to it which is unparalleled in so many other sports
A PlayMoreGolf membership is, in some cases, half the price of a traditional golf membership. So how do golf clubs benefit?
Jamie: Firstly, flexible membership means flexible for all involved, not just the golfer. When we start working with any golf club, the way the package is set up is customised to that golf club. And we certainly aren't in the business of converting existing full paying members into flexible members. In fact, we have found that the vast majority of existing club members prefer the membership programme they're already on, and only 0.4% – 2.5% transfer to a flexible product. Our aim is to attract new demographics, protecting existing club revenue and bringing in new revenue (which clubs receive up front) from a market otherwise untapped by the club.
Secondly, I'd like to mention that the yield per round with PlayMoreGolf is 3-4 times higher than that of traditional members, and that up to 9% of PlayMoreGolf members switch to a full membership each year. This really is a win-win situation for the golfer and the club. A case in hand, in the first 12 months of Hillsborough Golf Club joining PlayMoreGolf, they saw an added profit of £26,622.
Marcus: To add to this, many golf clubs don't have the infrastructure or resources to launch and maintain a flexible product and those who try can sometimes make the error of converting too many existing members. So what PlayMoreGolf does is offer this marketing and operations service to the golf clubs, not only freeing them from the responsibility, but expertly ensuring that the target market is new business, not existing members.
How do you see the game of golf evolving in the future?
Jamie: There's no doubt in my mind that flexible membership is the future of golf. In 5 years' time, I see every golf club in the country working this way, but it's important that its done well and helps to increase golf membership uptake.
Marcus: It's so important to modernise the way people access the game and adapt to the changing demands of the golfer. Golf needs to start appealing to a younger audience and we believe PlayMoreGolf does this.
Jamie: As I mentioned before, golf is a family game and I have fond memories of growing up with the game. It's sad to see that this trend went through a lull recently and I'm excited to see more young people and families take up the game and create memories together on the course.