Millennials (those born between the early 1980s and early millennium), are one of the most studied groups in history. Not only have they radically evolved the way we communicate thanks to the implementation of advanced online technologies, but have played a role in changing the landscape of work, parenting, home life and hobbies.
While the influences of this age group can be profoundly positive, there have been some negative impacts on the golfing sector. Fewer millennials are playing golf than the generations before them, ramping up a club's average age range to over 60 years old. Furthermore, clubs are finding it difficult to appeal to the millennial market but may not be sure how to change this. Having an interest in golf is no longer the key motivator in joining a golf club, and many other factors such as cost, flexibility and administrative practises can interfere with a millennial's decision making.
The good news is, lessons learned about this generation can be applied to the golfing sector. How millennials behave in the workplace and what they expect from their careers and home lives can give golf clubs a stronger clue about how to reach out to them.
Flexibility Is Crucial
Unlike generations before them, millennials do not feel obliged to stay in one location or career for life. In fact, a large survey showed that almost half of all millennials see themselves leaving their jobs within 2 years and prioritise diversity and flexibility over career progression and pay. So why is this relevant to the golfing industry? Well, if a millennial is moving locations and jobs frequently, or partaking in the ever-growing gig-economy, they are less likely to want to be tied to one particular golf club or membership offering. Much like with their careers, they want some flexibility to be able to make choices that fit around a more nomadic lifestyle. PlayMoreGolf offer this. While 80 per cent of a member's points will be spent at their home golf club, 20 per cent can be used elsewhere, giving them more choices and a more personally fulfilling golfing experience.
Flexibility Boosts Loyalty
While it's tempting to assume that the above means millennials are fickle and less loyal than previous generations, studies are discovering that flexibility can actually increase loyalty. The following chart illustrates this.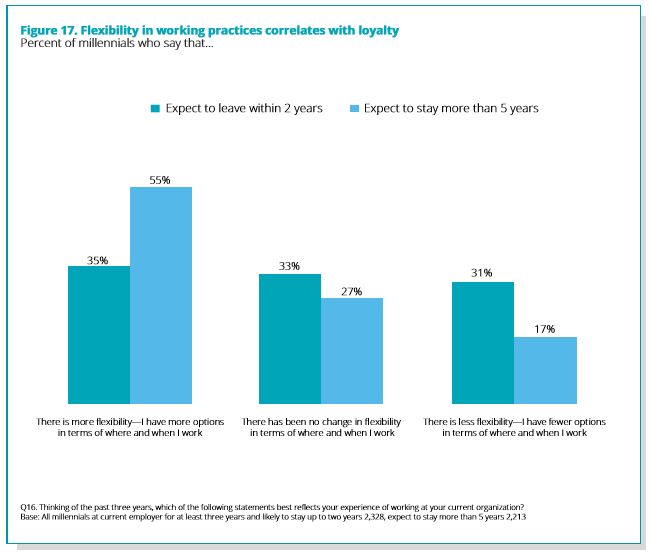 It shows that millennials who have been offered flexibility at work are LESS likely to want to leave their jobs than those with limited choices, and this is important for the golfing sector to consider. If your club has a flexible offering, this could maximise customer loyalty within this age group, giving you ongoing revenue and a lower average customer age.
Flexible Members Will Promote Your Club For You
Facebook, one of the most powerful communication platforms to ever be invented, was created by a millennial, and it is this generation that have pushed social media into everyday life. Uploading day-to-day activities is the norm, and that means you can expect to see your golf club talked about online if you've opened it up to this age demographic. Whether a flexible member is using your club as their home club, or just passing through while on a business trip, it's highly likely they'll take photos and tweet about the experience. This is an organic and very welcome marketing exercise for your club and gives you plenty of free content to use for promotional purposes. At PlayMoreGolf, members are given access to an exclusive Facebook group where they can share their experiences of your golf club. They also get a PlayMoreGolf app, modernising the way they book rounds and appealing to their preference for speed and instant gratification.
Of course, being a PlayMoreGolf affiliated club partner does not mean your club bar will instantly flood with youngsters and drive away your traditional members. Flexibility is also an asset offered to clubs, so that the membership can be managed in a way you and your existing members are comfortable with. For more information or to make an enquiry, click here.
Chart credit 2018 Deloitte Millennial Survey Millennials disappointed in business, unprepared for Industry 4.0