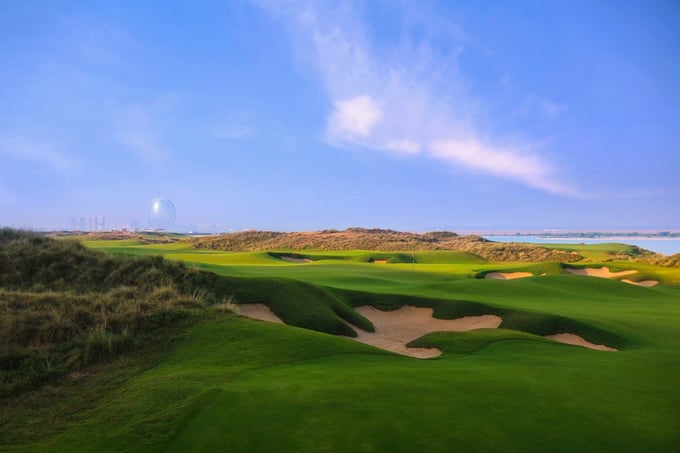 PlayMoreGolf are proud to announce their first international partnership with Yas Links, United Arab Emirates; recently voted 44th best course in the world as ranked by Golf Digest.
Yas Links in glorious Abu Dhabi is like no other golf club the company has had the pleasure of partnering with. One of only three golf clubs in the region, Yas Links promises an unforgettable experience, including access to two exceptional courses that guarantee to test and excite any golfer. Both courses were the vision of award-winning international golf course architect Kyle Phillips, who believes that "all golf courses should feature their own personality and style derived from the course's natural surroundings and history". His work with Yas Links is no exception; featuring unparalleled visual glory that utilises the environment's unique weather patterns and fascinating heritage.
Yas Links also offers an open top restaurant and bar, as well as close links with several luxury hotels, attractions and local dining experiences. For this reason, it is the ideal place for flexible members to take friends, family members, business clients or colleagues.
As you would expect from a golf club of this prestige, it currently costs more than £6,000 for a full 7-day membership. With the new flexible membership category, these costs are dramatically reduced, enabling a membership option for the infrequent golf at around one third of the full fee.
James Ibbetson, Director of Golf at Yas Links said:
"We are delighted to the be the first club in the UAE to launch a flexible membership category. The opportunity is huge and as a team, we really believe that there will be fantastic take up. As we know, the younger 25-50-year-old golfer is busy with work and family commitments in the modern world. Sometimes, they simply cannot justify a full membership, from a time and financial perspective. Our new flexible membership category (which is priced between AED 13,000 and AED 20,000) hits a completely different market segment – those that want to be a member of a club, however, who are not going to play enough rounds to justify a full golf membership. Golf membership is still very much a luxury in the UAE; hopefully the introduction of this category will change the perception. My team and I are very excited to see how the launch is received."
A major product development for PlayMoreGolf in 2019 is the introduction of 'PlayMoreGolf Premium' – using the foundation of the standard PlayMoreGolf model which has seen huge success across the UK over the last few years, clubs who charge a higher price for their traditional membership categories now have the ability to launch their own flexible membership category which can be priced and built to the golf club's complete requirements.
Working with more international and high-end golf clubs is a key aim of PlayMoreGolf in 2019. If you would like to learn more about offering a flexible golf membership category at your club, please visit https://www.playmore.golf/become-a-partner/ or email us on sales@playmore.golf.